You are here
Compare NRI Home Loan Offers in India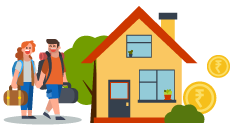 NRI Home Loans

Easy NRI Home Loans
Check your eligibility
Salient Features
Obejectives for NRI Home Loan
Loan eligibilty
Required documents
FAQ's
Please Fill in the Details
First name*
Last name*
Date of birth*
Email ID*
Mobile number*
Address Line 1*
Address Line 2
PIN code*
Approximate Property Estimation*
Loan amount*
Net Monthly Income*
Bonus(If any)
Incentive(If any)
Other Income(If any)
Total EMI Per Month*
Do you have a Power of Attorney in India?
Attorney Holder's Name*
Attorney Holder's Email ID*
Attorney Holder's Mobile Number*
City Attorney Holder lives in*
Attorney Holder's Age*
Co-applicant's relationship*
Other relationship*
Co-applicent company name*
Monthly Income*
Bonus(If any)
Incentive(If any)
Other Income(If any)
Total EMI per month*
Loans to NRIs, PIOs and OCIs for the purchase of: A flat, row house, bungalow from private developers in approved projects in India.
Properties from Development Authorities such as DDA, MHADA etc.
Avail of Home Loan Advisory Services in the country where you currently reside.
Property Search Advisory Services - expert legal and technical counselling to help you make the right home buying decision.
Valuable insights on developer projects, location, documentation and offerings.
Attractive interest rates.
No hidden charges.
Loan for purchase of property located anywhere in India.
Who can take a NRI Home Loan
Key Highlights




Variety of products depending on your unique needs such as buying a house, building a house or purchasing property in India, and more. Speed and convenience – online loan application.

Overview




Want to buy or build a new home? Purchase land? Whatever be your unique need, Bank has a loan product just for you.

Benefits




Attractive interest rates on a monthly reducing basis.
Choice from fixed and floating interest rates.
Part–prepayment facility for zero fees.
Doorstep service in India till disbursement.

Eligibility Age




You must be minimum 21 years old.
For NRI applicant, maximum age limit is 60 years or retirement age (whichever is earlier) at the time of loan maturity.

Residential status




If salaried applicant, you should have been abroad for a minimum period of 1 year.
If self-employed applicant, you should have been abroad for a minimum period of 3 years.

Income


Tenure between 11–15 years, minimum qualification to be Diploma/ Graduate with minimum 3 years of employment abroad or professional qualification with 1 year of employment abroad.
The amount of loan given by financial institutions depend on lots of factors, including your income, age, qualifications, work experience, number of dependents, spouse's income, stability of income and employment, assets, liabilities, etc.
There are number of factors that count for the eligibility for a housing loan. Though RBI has drafted guidelines for the eligibility for the loan but the banks have their own criteria to determine the eligibility and quantum of housing loan. The borrower's should be aware of the factors before applying for the loan.
Information on the application form. The information filled by the customer in the application form is verified from various primary and secondary sources - through interviews, calling up the employer, verifying from the database etc. In case of wrong information or discrepancy, the loan application is liable to be canceled.
The financial status of an individual is an important factor for determining the eligibility because the repayment capacity of the borrower depends on the financial position. The income level, net income, liabilities etc determine the amount of loan.
The requirements include a particular minimum income or a fixed and certain source of income. The credit history of the borrower has an important role in determining the loan eligibility. Usually, the lenders maintain a database of borrowers and verify the credit history to check for previous repayment defaults, even from other lenders.
The personal profile of the individual is also important. These include factors like educational qualification, profession, number of dependents, assets owned, liabilities owed, savings history etc. A higher number of Dependants or existing liabilities implies lower repayment capacity.
The individual's age give an idea about the earning life, and the life cycle stage at which the individual is. In case the property is co-owned, the co-owner cannot be a minor. Moreover there is a fixed age limit of the co-owner. The age limits are set to minimize ownership disputes. The age limit is taken into consideration while fixing the tenure of the home loan and EMIs.
The applicant's retirement age is also considered. For example, if the applicant is 45 years of age and is set to retire at 60 years, the maximum loan tenure available will be 15 years.Also, in case the bank has a 75-year age limit for a co-applicant, if the applicant is 40 years old and the co-applicant is 60 years old, then the home loan will be sanctioned for a maximum period of 15 years only.
The reputation of the builder also counts. List of pre-approved builders is available with each bank. Their credentials are already verified by the bank and as such loans are easily available for their properties.
Location of property also matters for the eligibility. Banks have specific norms with respect to a minimum area of a flat too. This may be built-up area or carpet area.
The age of the property is also an important consideration in case of purchase of existing properties.
If the resale property is less than 50 years old then only home loans are sanctioned. Banks conduct legal and technical appraisal of the property to see whether the title of the property is clear, there are no ownership disputes, the property is free from any encumbrances etc.
Following are the documents you would need to submit for all applicants / co-applicants along with the completed and signed Application Form for loan approval:
Proof of both identity and residence (any 1).
Valid Passport (mandatory).
Voter ID Card.
Aadhaar Card.
PAN Card with Allotment Letter.
Proof of income.
Photocopy of the Employment Contract / Appointment Letter / Offer Letter.
Last 3 months' Salary Slips / Certificates specifying the following
Name (as it appears in the Passport).
Date of joining.
Passport Number.
Designation.
Perquisites and salary.
Photocopy of last 6 months' Bank Statements, showing salary credits.
Photocopy of last 6 months' Bank Statements of the NRE / NRO account in India.
Other documents
Photocopy of the valid resident Visa stamped on the Passport.
Passport size photograph of all the applicants / co-applicants to be affixed on the Application Form and signed across Past occupational history.
Property related documents
Copy of the Allotment Letter / Buyer Agreement.
Receipt/(s) of payment/(s) made to the developer.
Please note
The above list is indicative in nature and additional documents can be asked for.All documents to be self attested. If the documents are in a language other than English then an English translation from a professional translator will be required.The same is to be attested by the Embassy / Employer.
When can I make an application?


You can apply for a Home Loan whilst you are working abroad, to plan for your return to India in the future. You can apply at any time once you have decided to purchase or construct a property, even if you have not selected the property or the construction has not commenced.

Can I avail of a joint income loan by adding the income earned by the Co-applicant in Indian rupees?


Yes, we can offer a joint income loan by adding income earned by the Co-applicant in Indian Rupees. However the Co-applicant has to be your immediate family member - Spouse, Parents or Children.

Can a name of a foreign national of non-Indian origin be added as a second holder to a residential property purchased by an NRI/PIO?


No.

How is my loan reassessed if there is a change in status from Non-Resident Indian to Resident Indian?

In the event of you relocating back to India, Bank reassesses the repayment capacity of the applicant(s) based on Resident status and a revised repayment schedule is worked out. The new rate of interest will be as per the prevailing applicable rate of Resident Indian loans (for that specific loan product). This revised rate of interest would be applicable on the outstanding balance being converted. A letter is given to the customer confirming the change of status.

What documents would be required to prove my PIO eligibility?

A photocopy of the PIO card or
A photocopy of current passport indicating birthplace as 'India'.
A photocopy of Indian passport, if held by the individual earlier.
A photocopy of parent's / grandparent's Indian passport / birth certificate/ marriage certificate.

What is a PIO card?

A PIO card is issued to a 'Person of Indian Origin', by the 'Indian mission' (Embassy of India / High Commission of India / Indian Consulate) in a foreign country. It extends to the cardholder certain facilities, as prescribed by the Ministry of External Affairs, and is valid for a period of 15 years.

Can I submit my loan application at your international office or at the offices of your Service Associates and avail the loan in India?

Yes. You can submit the loan application at international office or at the offices of our Service Associates. However, disbursement of the loan can be taken by you or your Power of Attorney holder in India only.

Do I need to be physically present to avail a loan?

You need not be present in India to avail of your Home Loan. In case you are posted aboard at the time of submission of the loan application and disbursement of the loan, you can avail the loan by appointing a Power of Attorney as per Banks format. Your Power of Attorney holder can apply and carry out the formalities on your behalf.

What security will I have to provide?

Security of the loan would generally be security interest on the property being financed by us and / or any other collateral interim security as may be required by us.It is extremely important for you to ensure that the title to the property is clear, marketable and free from encumbrance. There should not be any existing mortgage, loan or litigation, which is likely to adversely affect the title to the property.

Can I give a Power of Attorney in favour of a person of my choice in India to complete the loan formalities on my behalf?

Yes. It would be desirable to appoint any of your relatives as the Power of Attorney (POA) holder in India. The POA should be a resident of the city where you wish to apply for your Home Loan. The POA should be executed as per the draft provided by bank. In case the Co-applicant is not present in India to complete the loan formalities, the Co-applicant should also draw a Power of Attorney favouring any relative in India.