You are here
Working Capital Finance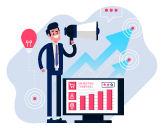 Working Capital Finance

Accelerating Your Growth
Check your eligibility
Salient Features
Working CF objectives
Eligibilty
Documents Required
FAQs
Please Fill in the Details
Full Name*
Date of Birth*
Mobile Number*
Required Amount Loan*
Income (Per month)*
Email ID*
City you live in*
Working capital is the equity or funds available to owners to meet their short-term financial commitments and expenditures.
Flexibility:

Loan structured based on unique customer needs.

Innovation:

Customized repayment plans.

Agility:

Fast processing of applications.

Research:

Expert panel to cater to needs of heterogeneous industries.
No collateral required.
Easy EMI based repayment options.
Competitive rate of interest.
What is Working Capital finance
Working capital loans are short term financing options that are used to cover accounts payables, wages and investments on short term assets. SMEs whose business are dependent on seasonality or manufacturers who depend on traders can opt for these loans until their business picks up or they receive payments. Since working capital loans can be used as the SME deems fit and can be availed for shorter terms, they are extremely beneficial to resolve any immediate financial crunch. Moreover, since these loans are disbursed quickly with fewer documentation requirements.
Bank offers you a unique range of working capital facilities at your door-step. We offer affordable, convenient financial solutions which are of paramount importance in running an efficient enterprise. You can choose from the range of customized working capital loans for smooth business operations.
Benefits are:
Flexibility:

Loan structured based on unique customer needs.

Innovation:

Customized repayment plans.

Agility:

Fast processing of applications.

Research:

Expert panel to cater to needs of heterogeneous industries.
Types of Working Capital

Cash Credit / OverdraftTerm Loan (TL).
Letter of Credit (LC).
Bank Guarantee (BG).
Packing Credit (PC).
Post Shipment Finance.
Bill Discounting.
Customer Segment: SMEs including Traders, Manufacturers, Service Enterprises, Retailers, Stockist, Distributors, Merchant Establishments,Departmental Stores, Supermarkets, Restaurants, Multi Brand Outlets etc.
To be eligible for a working capital loan, an applicant must represent a business that has been operating for a certain number of years and/or earning a certain annual turnover. These criteria vary between the type of business you represent and the bank receiving the application.
Financial assessment.
Valuation of property provided as security.
Should be Sole Proprietorship, HUF, Partnership Firm, Private Ltd or Public Ltd Co.
Minimum 3 years in same Business & same location.
Minimum 6 months of assets / liability relationship with the Bank.
Not listed in RBI Defaulter's List, CIBIL database or in any negative database Bank.
Satisfactory conduct with the existing Banker.
Group concerns not listed in RBI / CIBIL / Internal database of the Bank.
Generally Required Financial Documents
CMA Report if turnover > Rs. 5 crores
Business continuity Proof - 3 years income tax return & Income statement
Last 2 year audit report and audited Financials (debtors & creditors List a must).
Last 12 months bank statements.
In case of transfer of loan: Last 12 months of loans statement along with sanction letter of previous bank.
Any other loan statements on books of companies along with sanction letters.
Last 12 months loans statement with sanction letter of any other existing loans.
Business incorporation date proof - PAN Card
MOA(Memorandum of Association ) and AOA (Articles of Association)
Latest share holding pattern on company letterhead
List of Current Directors on company letterhead
Partnership deed
Certificate of Registration
Certificate of Incorporation
What Is a Working Capital Loan?


A working capital loan is a form of unsecured debt that can be used for a variety of business purposes. Working capital loans are chosen by many businesses over bank loans due to having a higher approval rate. Business owners choose working capital loans to get fast cash to move forward quickly.

Is my company eligible to avail Working Capital Finance?


If you are a Sole Proprietorship Firm, Partnership Firm, or a Private limited Company in the business of trading, manufacturing, and service then you can apply for availing the facilities.

Who can benefit from Working Capital finance?


As a manufacturer, service provider, retailer/wholesaler or a trader engaged in imports / exports, you can apply for our Business Loans and benefit from our products and services.

What collateral is acceptable for your loan facility?

Bank gives flexible collateral options and can accept Residential/Commercial/Industrial Property and Liquid securities as collateral.

What Can Working Capital Loans Be Used For?

Working capital loans are often used to fund many different aspects of a business. customers can use the loans for a variety of purposes, such as funding payroll or taxes, advertising and marketing, expansion, and even purchasing new inventory.

Do I need to pledge property or machinery to get a loan?

No. We evaluate businesses solely on the strength of their cash flows and expected receivables.