You are here
Resale Home Loan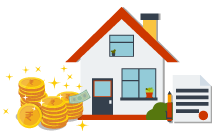 Resale Home Loan

Buy Your Dream Home
Check your eligibility
Salient Features
Who can take Resale Home Loan
Loan eligibilty
Required documents
Please Fill in the Details
Full Name*
Date of Birth*
Mobile Number*
Required Amount Loan*
Income (Per month)*
Email ID*
City you live in*
We understand the reasons which are critical to your home buying decision – immediate possession, strategic location with good proximity to social infrastructure and the assurance to own your dream home. You can purchase a 'Resale Home' best suited to your requirements. Now create your own space in the location of your choice.
Loans for purchase of Properties in an existing Co-operative Housing Society or Apartment Owners' Association or Development Authority settlements or privately built up homes.
Expert legal and technical advice and thorough review of property related documents to help you make the right home buying decision.
Attractive interest rates that make your Home Loan affordable and easier on your pocket.
Customised repayment options to suit your needs.
No hidden charges.
Integrated branch network for availing and servicing the loan anywhere in India.
Who can take Resale Home Loan
Home Loans for purchase of a resale ready or under construction flat/apartment, row house, bungalow from its existing owner. The property can be in a cooperative housing society, privately owned, independently owned, privately owned & others.
Multiple options: Multiple leading financial institutes options available.
Expert advisory & counseling for your home loan.
Innovative schemes.
Competitive & attractive interest rates.
Repayment options to suit your requirement which can go up-to 25 years.The term/tenure of the loan will depend on age, retirement age & profile of the applicants & co-applicants.
No hidden charges.
No Foreclosure charges.
No Pre part payment charges.
Loan amount up to 80% of the cost of the property, an option to fund up to 100 % of the cost.
Option of Pre-EMI or a full EMI in case of under construction property.
Type Of Rates Available Rate : Fixed, Semi Fixed, Variable/adjustable

Who Can Apply


You can apply individually or jointly for Home Loans. All proposed owners of the property will have to be co-applicants. However, all co-applicants need not be co-owners. Generally co-applicants are close family members.
The amount of loan given by financial institutions depend on lots of factors, including your income, age, qualifications, work experience, number of dependents, spouse's income, stability of income and employment, assets, liabilities, etc.
There are number of factors that count for the eligibility for a housing loan. Though RBI has drafted guidelines for the eligibility for the loan but the banks have their own criteria to determine the eligibility and quantum of housing loan. The borrower's should be aware of the factors before applying for the loan.
Information on the application form. The information filled by the customer in the application form is verified from various primary and secondary sources - through interviews, calling up the employer, verifying from the database etc. In case of wrong information or discrepancy, the loan application is liable to be canceled.
The financial status of an individual is an important factor for determining the eligibility because the repayment capacity of the borrower depends on the financial position. The income level, net income, liabilities etc determine the amount of loan.
The requirements include a particular minimum income or a fixed and certain source of income. The credit history of the borrower has an important role in determining the loan eligibility. Usually, the lenders maintain a database of borrowers and verify the credit history to check for previous repayment defaults, even from other lenders.
The personal profile of the individual is also important. These include factors like educational qualification, profession, number of dependents, assets owned, liabilities owed, savings history etc. A higher number of Dependants or existing liabilities implies lower repayment capacity.
The individual's age give an idea about the earning life, and the life cycle stage at which the individual is. In case the property is co-owned, the co-owner cannot be a minor. Moreover there is a fixed age limit of the co-owner. The age limits are set to minimize ownership disputes. The age limit is taken into consideration while fixing the tenure of the home loan and EMIs.
The applicant's retirement age is also considered. For example, if the applicant is 45 years of age and is set to retire at 60 years, the maximum loan tenure available will be 15 years. Also, in case the bank has a 75-year age limit for a co-applicant, if the applicant is 40 years old and the co-applicant is 60 years old, then the home loan will be sanctioned for a maximum period of 15 years only.
The reputation of the builder also counts. List of pre-approved builders is available with each bank. Their credentials are already verified by the bank and as such loans are easily available for their properties.
Location of property also matters for the eligibility. Banks have specific norms with respect to a minimum area of a flat too. This may be built-up area or carpet area.
The age of the property is also an important consideration in case of purchase of existing properties.
If the resale property is less than 50 years old then only home loans are sanctioned. Banks conduct legal and technical appraisal of the property to see whether the title of the property is clear, there are no ownership disputes, the property is free from any encumbrances etc.
Generally Required Financial Documents For Self Employed Category
All Certified Financials Statements for latest 3 financial years.
Bank statements.
Business and Personal Profile.
All Know Your Customer(KYC) Documents.
All legal and title/Property Documents to be offered as collateral.
Copy a Partnership deed (Applicable for a partnership Firm).
Copy of MOA & AA (Applicable for a Private Limited Company).
Generally Required Financial Documents For A Salaried Category
Latest 3 months company certified Salary Slips.
Latest 3 years company certified FORM No 16.
Latest 3 years Income Tax Returns.
Bank Statements.
All Know Your Customer(KYC) Documents.
All legal and title/Property Documents to be offered as collateral.